Today I got an email from Evie, from the UK. Awesome right? There were questions about my art and here are the answers.
Hi!
My name is Evie and i'm doing an art project for my final exams. I came across your art work and I fell in love with it!! I thought it was wicked.
My project is about snowboarding and the movement which is involved. I snowboard myself here in the uk. I think it's an awesome sport. I was wondering is it possible if i could ask you a few questions involved in your art work. I'd be so happy if you can give me some feedback. It'd help me with my project so much.
I'm doing all different pieces and takes on with different artists; Stuart Leonard, Ross Jeffery, Monet, Van Gough etc.. and i'd love to include your art work! But I need to know what and how and why you do the work you do.
So my following questions are:
1. What gives you the inspiration to draw what you do?
2. What do you use? Do you prefer some medians to others? and why?
3. What do you want to achieve with your artwork?
4. What do you like to draw the most? why?
5. Where do you do most of your artwork?
6. History? Did you enjoy drawing or was it a developed thing?
7. How do you draw the way you do? What techniques?
8. Do you copy a picture and put your own twist to it or do you think of it yourself?
9. How long have you been drawing?
10. how do you describe your art?
Can you tell me more about yourself, your art side, i mean.
Thank you for your time to read this.
I hope I can receive a reply from you.
All my best!
Evie, 17 student.
------------------------
Hey Evie,
Honestly, I'm quite flattered, you just made my day! ha ha
1. What gives you the inspiration to draw what you do?
There are quite a few things that inspire me. When I was little it definitely was my mom, she used to draw a lot with pen and ink and then paint them in watercolors. ( i attached an image for reference) i also found her old art website, its still just up on the internet but she hasnt touched it in years!
http://rabiddreamzgallery.tripod.com/index.htm
Anyway I used to get so mad at my mom when i was little because she would just give all her art away for free and I was like one, why aren't you selling it, you're so good and 2 if you're going to give it away, give it to me, I want it! ha ha I was always fascinated by what she did and wanted to be able to do what she did and she always encouraged that.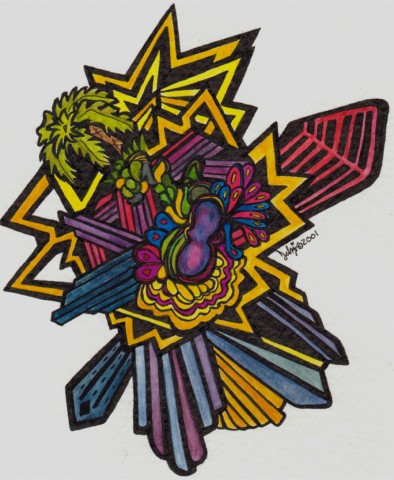 by: Debi Askey
then in high school i had an art teacher, ms eaves who thought i was so good and should really focus on it so i did, she would give me all sorts of amazing art supplies and encourage me to try out new things and just experiment so i grew a lot from her and decided when i went into college to major in art.
That's where I got discouraged for a some years though, in college. I don't consider myself like an artist who has a lot of verbal meaning to my work, and i mean like it doesn't have to have this huge impact on a person where they understand that its a comment on society or anything like that. I don't know if that makes sense, I just do what I do because I want to do it. That was very much my downfall in college, was that I didn't have enough meaning or purpose to what I was doing in those classes. I don't know if you've ever seen that show Work of Art on BravoTv - you can check some of it out on the bravo website if you haven't, but doing art in college was very much like that. You were always being judged and you could love something but people would hate it. It hurt a lot and definitely was not as constructive as I needed so I changed majors and eventually graduated with a degree in media arts (the film program at UNM).
After I finally got over art school issues I would do some here and there if I felt the urge but I still wasn't doing much. Then my boyfriend and I created an idea for a cartoon and I started drawing up animation stills for that and got inspired finally because we had thought up this entire world that I wished I could create called PuppyDragon Land (TM) The episdoes are on youtube if you are interested
http://www.youtube.com/user/punkmummy?feature=watch
There is still so much I haven't made of that world but I have imagined, I'm hoping one to pixar will want to animate it and I'll just be able to describe it all and have them do it! ha ha I feel like I have my own thing where like someone like tim burton would be, I would love to live in the world I have created in my head and only been able to give you a glimpse of in person. Tim burton is a huge inspiration to me as well because he does a lot of the things I do, when I saw his exhibit at LACMA, he had sheets of drawings of just tons of little characters and seemed to be just bursting with this world that was inside his head and took years to create. And now people absolutely love it. I feel like I've been creating the world of jera sky for the past twenty years and have only recently been able to get a grasp of it myself.
I moved to california in 2008 and thats when that movie Julie and Julia came out, where she did the blog for a year and then got to turn it into a book. I was like I'll do that with my art and maybe by the end I'll be able to have a book, well what I ended up with was a TON of art and no book, but a way better grasp on the kind of art I like to do and I feel like thats when I really established my style. I also feel like I got so much better by the end and even though it was really hard and no one really commented on all the posts I put up on my blog, I still achieved something great and I was the only one who had the pleasure of knowing that. And I think thats in the end what I realized was most important, after all the countless hours trying to please art teachers in college with huge failure, everything I create should just be for me, if other people like it and want it that's a bonus, but I'm the only person I need to please. And since that realization a lot more people like my art now. I also do improv and that's really a rule in comedy, is do what you think is funny, in the end people will either like it or they won't. That trust belief in yourself is probably the hardest thing any artist has to overcome.
2. What do you use? Do you prefer some medians to others? and why?
Definitely. I like acrylic, I hate oil, its toxic and even if you get the safe environment friendly stuff its super hard to clean up, its expensive and it takes forever to dry. I am the most impatient person so I can't wait for a painting to "dry" come on. ha ha
I love acrylic because its cheap, easy to use, easy cleanup and I'm just able to make it work how I want to work.
I also love black ink pens, and I don't even get mine at the art store, I get em from Rite Aid, I don't know what they're called, I just know what they look like but they have a lot of ink and I can get great blacks with them and I can use them almost like a pencil, because they have such a fine like, which is what most of my black and white drawings look like, sketches.
I really like using pen to draw with because I used to only use pencil and now I feel like pencil is cheating, because you can erase, so you're not really committing to what you are doing. With a pen if you slip you gotta go with it, there are no mistakes, theres no right or wrong just how you handle it which seems to also be why I like improv comedy, it doesn't matter what you do, just don't ever act like you've made a mistake. I feel like once I committed to my drawings more with pen they got better and I was able to draw better than I thought I could when I was younger.
I also just started to use copic markers which I love so i'm combining my drawing with my painting more and its becoming my favorite way to work because its everything I'm good at combined together.
3. What do you want to achieve with your artwork?
Like I said earlier its mainly about me, I'm selfish, not in a bad way, just in a very aware way, which is why I'll never have kids, I can't justify raising a child with no money and I would have to have millions in order to feel like I could give a kid things I never had so until then or never I'll just keep spending my hard earned money on my self and doing art that mainly only pleases me, because I'm number one, I'm the most important person to me.
But I would like people to smile because of my art or laugh, my art is to make you happy, just like it makes me happy. I'm silly, goofy, and weird and so is my art, so I hope no one takes anything I do too seriously as it's all in good fun.
4. What do you like to draw the most? why?
I like to draw odd characters the most and puppydragons.because those are the things that make me most happy. I also like them because I have crazy weird backstories for everything, which if you go back to when i was doing my 365 days of art in my blog a lot of the mini character portraits have stories with them. I like giving life to things that otherwise would have none, its my world, I'm the creator and I'm crazy. Every story usually starts out kinda sad or dark but always ends positive and every character is happy. I feel like every character is me in some way.
5. Where do you do most of your artwork?
I do most of my artwork on the ground when I'm at home in my apartment, I just refuse to use an easel, I guess I feel like it comes off pretentious, its just been for me. Even in college we'd have like drawing horses and usually i'd just draw on the ground. Most of my teachers thought I was very odd. Most of it is done really late and middle of the night as I have trouble going to sleep a lot of times, I have insomnia. I also don't like to start something I can't finish right away so usually i won't put a piece down or even start it unless i know i can finish it. Not always, but most of the time. When I was doing extra work on movies and tv I'd have a lot of downtime so I used to do a lot of my drawings there, and when I pick up a day or two here or there I may draw when I'm on set.
6. History? Did you enjoy drawing or was it a developed thing?
I might have already explained kind of some of this earlier I feel like I've always enjoyed it but I used to take it too seriously when I was like in middle school and such because other kids could draw better than me. Now I don't care I just do what I do because I want to do it and I do it how I want to do it. I guess i probably enjoy the process a lot more now then I used to because now i realize there's no right or wrong way to draw something.
7. How do you draw the way you do? What techniques?
I think thats probably the hardest question of all. Oddly enough I think confidence is the main thing. Whatever i put on the paper first is completely correct I like really nice contrast so i always try to get the blacks real black. I shade based on a sort of math i guess. When i did life drawing class in college or still lifes we had to get the shadows perfectly so it would look right i guess i just memorized how light fell on real objects and angles and all that and thats how i shade the random stuff that I draw, based on the math and angles of what I used to do. I feel like it simplifies things so I can focus more on the image as a whole than how to make it look real? I dunno this sounds real weird when i write it out, it definitely makes sense in my head.
8. Do you copy a picture and put your own twist to it or do you think of it yourself?
I guess that depends most everything I do is just fully created out of my own brain. Obviously if I don't know how to draw a horse I'll look up horses so I can draw that zombie unicorn i wanna draw, but usually its just a reference to how things look because sometimes in my head i know exactly what i wanna draw but i don't know how to start and just the process of looking at something gets things firing on all cylinders so my brain can tell my hand this is what you should put on the paper first.
9. How long have you been drawing?
I've been drawing pretty much my whole life because my mom was an artist and always encouraged it. She also always used to make up art things for us to do every summer when we were on vacation from school so it was always encouraged. I'd say I have a solid 20 years (I'm 26) of conscious drawing under my belt, and probably some unconscious years when I was little and just learning motor skills.
10. how do you describe your art?
The same as me. Weird, quirky, goofy, silly, dark, odd, bright colors, stark contrasts, surprising. I am my art and my art is me.
Can you tell me more about yourself, your art side, i mean.
I'm not sure exactly what else to write. up until recently my art has always just been my art and something I do, the past year I've actually started to sell some of it and it has to be one of the most exciting things ever. It definitely by no means pays the bills but a little bit here and there every month is a success to me.
Ah some of my favorite artists are my mom of course, Van gogh, Seurat, Dali, Escher, Tim Burton, Sense
(http://zdenekjanda.com/
), Gregory Colbert (if you have never seen his ashes and snow film, you're definitely missing out, its astounding, one of the most most beautiful videos I've ever seen here's a clip:
http://www.youtube.com/watch?v=WR7yzPLXNAM&feature=related
), Gregory Crewdson - amazing photos that look like movie stills and are set up just like that, and myself, OF COURSE!
Jera Sky